BabyCare
BabyCare is a ministry of love to underprivileged babies/toddlers and their families in Sheboygan County.
There are two branches of BabyCare:
Newborn Layettes – we give a gift-wrapped box of onesies, blankets, clothes, diapers, and a New Testament to referred families of newborns.
Diapers – we are a part of the National Diaper Bank Network and provide a quantity of diapers, newborn to size 6, 12 times up to one year to referred families.
BabyCare is located across from the church at 1514 N. Saemann Avenue (on the side of the Locate Staffing building; use the side door). Office hours are Thursdays from 12-4pm. Based on advice from the Public Health Department, we are requiring clients to wear masks inside our office.
Interested in supporting the BabyCare ministry? Please consider a monetary donation for us to purchase more diapers from our national source.
To find out what additional items are available, stay connected via Facebook. Questions? Contact Marge at 920.207.0515.

---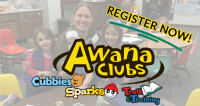 Do you have kids ages 3 through grade 6? Registration is now open for our Wednesday night Awana program that meets throughout the school year. Learn more and register now!