Join us on Sunday Mornings in Children's Ministries!
Sunday mornings in Children's Ministry are great! There's something for everyone; we invite you to discover what might serve your family's needs best!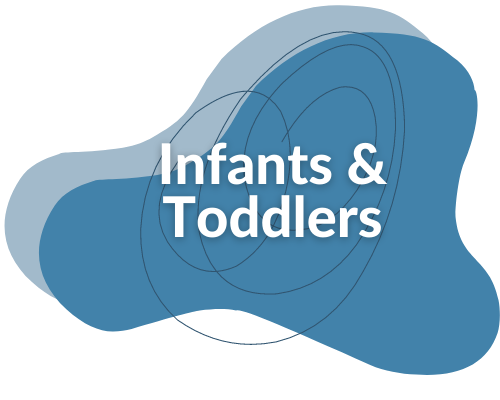 Nursery - Infants & Toddlers

A well-staffed nursery is available for infants through toddlers during each of our Sunday morning worship services. Our nursery staff consist of caring parents, grandparents, and adults who are fully screened and background checked to ensure your child's safety.
When you check in, you are welcome to leave a diaper bag, snacks, or other comfort items for your child, although our nursery is well-stocked with toys, books, snacks, changing table, and toddler restroom.
Nursing Room
We also provide a Nursing Room for mothers who need a private space during our services. This room is adjacent to the nursery and is available to give newborns and nursery-age children a little more wiggle room (and noise level) while providing the opportunity for parents to have a private place to go if needed.

Pre-K & Kindergarten
Children who are ages 3 to kindergarten enjoy Bible stories, activities, and playtime to foster community and relationships while learning about following Jesus. These classes lay a biblical foundation in the lives of our little ones through Bible stories from throughout the Old and New Testaments.
The Pre-K and Kindergarten classrooms are located on the main level, just down the hall from the Multi Purpose Room, on the North side of the building.

Elementary Classes
If you have a child who is in grades 1-6, we would love to have them join our Sunday morning groups at 10am! Students have a time of large group worship and gathering before breaking out into classrooms by grade level. We use Bible stories, activities, scripture memorization, and classroom discussion to dive deeper into the topic for each week.
In Grades 1-4, children work chronologically through the Bible and see the gospel unfold from Genesis to Revelation. In Grades 5-6 students study how the Bible applies to everyday issues as they solidify a biblical worldview.
The classrooms for Grades 1-6 are located along the lower level hallway.